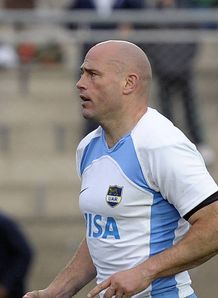 Related links
Teams
Also see
Argentina midfielder Felipe Contepomi has labelled Wales inside centre Jamie Roberts as "rugby's Everest" ahead of their showdown in Cardiff on Saturday.
The 35-year-old returns to the side after missing the Rugby Championship to play his 79th game for his country in a fixture he is clearly relishing.
"It's a huge challenge. It's like climbing Mount Everest. Jamie is one of the best centres in Europe and one of, if not the best in the world," Argentina's hugely-experienced centre said.
"As a player you want to play against the best and to have that challenge on Saturday and I'm looking forward to it.
"He's a great guy and it's delightful to watch him play but it's not so good when he's in front of you.
"Wales have a lot of important players and we see them as a unit. But Jamie has that extra x-factor. He has that experience now but we're trying to analyse them as a unit. We're trying to develop our game more than thinking about Wales and want to be more offensive."
Contepomi was part of the Argentina side that beat Wales 30-16 in Cardiff in 2001, when he scored 25 points in an impressive performance. And he clearly remembers that day well.
"It's one of the great memories of this team but I am the only survivor. For many of the players from that game, and every time we meet up to catch up, we always remember that game," he said.
"It was one of our biggest wins away from home and gave us the confidence and mentality to look to win every game, no matter where.
"Wales is a rugby nation that we love, we've always been very in touch since the 1970s when we nearly beat them but lost in the last minute.
"It's one of the places you always want to play and I was so lucky to be part of the team that beat Wales at the Millennium Stadium."