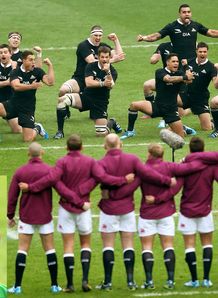 Related links
Teams
This June, Planet Rugby's Expert Witness returns with a new face as we welcome Harlequins and England number eight Nick Easter to our panel.
Over the next four weeks, we'll examine England's tour to New Zealand in detail, whilst also commenting on the other Test action around the globe.
Heaven or Hell?
Much has been made of the timing of England's end of season sojourn to New Zealand. A week too early? A Test too far? Another tour of Hell?
The truth is that with players rightly demanding some time off to rest and recuperate and with media moguls to appease, the only available slot to fit in three Test matches is the dates that were offered.
Easter believes a little too much has been made of the challenges of the schedule.
"There are always ready-made excuses if you look for them," chuckled the big Harlequin.
"If people are going to tour with an attitude of negativity then truthfully, they shouldn't be there in the first place!
"This is something special; four consecutive Test matches (including the November Test) against the best side in the world.
It's a test of character, depth, ability and desire. Nothing comes bigger than this and this makes England's World Cup group challenge look like a stroll in the park."
With the first Test coming only a week after the Premiership Final, England will be without the backbone of their side.
"You can either moan about it, which does no one any good at this stage, or deal with it,," said Easter.
"I believe the opportunity it opens up for fringe players is huge and of course it allows Stuart Lancaster to delve deeper into his resources and explore which of those players are able to make the step up. In saying that, Stuart is very precise and detailed; look back along his selections in recent times and he tends to stay with the players that have been around the squad longest when making changes."
With full availability for the second Test, Easter considers that Lancaster will already have inked both starting line ups firmly on the teamsheets.
"He already knows both starting XV's and any deviance from that would be surprising," he observed.
"No-one will change that. Yes, the guys in the first Test have a chance to press their claims but it'll take a Herculean effort to force out the established internationals from Saracens and Saints in a fortnight's time.
"Plenty is made of the disadvantages of this tour but New Zealand would rightly argue that they are often in the same position for the November Tests, when injury and fatigue will always have an influence on the resources they have available, so it's an equitable position and as a player I always relished the opportunity to take on the rugby giants of the southern hemisphere at this time of year.
"Remember, internal inertia and competition makes for a competitive squad and leads to high standards so whilst it's annoying we don't see our starting side until Test two, the information gained in the first match will be crucial to the wider squad development.
"It's a coach's dream to be forced to select a side rather than simply name a team and this will be Stuart's aspiration from the first Test onwards."
In terms of this week's selection, the centres throw up an interesting debate; on the positives the robust figure of Manu Tuilagi is now available but on the downside, England look to be shorn of the stability and offloading of Billy Twelvetrees. Easter is delighted to see the Leicester Tiger back in the frame.
"Manu looks mean, lean and fit. Word from the camp is he's shed a little puppy fat during his enforced lay off and is fitter than he's ever been," he explained.
"If there is one player the All Blacks fear it's Tuilagi. He was the game changer when England won in 2012. He has the X factor and any side in the world fears his direct approach and brilliant lines of attack. He also creates a lot of space around himself as he'll always commit more than one defender.
"Looking to the second Test, the options in the midfield excite me greatly. Luther Burrell had the single biggest impact of any player, influencing our attack during the Six Nations. His ability to straighten and choose the right option is warming for a player of such tender years. I'm convinced he will start the second Test.
"That leaves Mike Catt and Andy Farrell with an interesting conundrum; two international options for the other berth and only one shirt to fill. However I believe if England keep the centre pairing that started in the Six Nations, Manu will start on the wing, a position where he played a lot of his formative rugby," remarked Easter.
"I can already hear dissenting voices saying you need to play a winger on the wing (!) but the truth it it's how you use that player. If the plan is structured right we'll see Billy's offloading and Burrell's power running creating a lot of holes in the 12/13 and 13/14 channels.
"It's then you bring Tuilagi off the wing into that space in a planned fashion. It's a truism that the hardest pass to defend is the offload; get this right with Manu's power and we could have a lethal weapon that will unlock any defence.
"One player I am looking forward to seeing for the series is my club team-mate Danny Care who made his debut out in NZ in 2008 and has come on massively as a player and person since then and particularly the last 18 months.
"His form has been consistently excellent and he has helped England play a higher tempo game but his decision making of when to 'tap and go' along with his kicking game have been his biggest improvements. As a bloke, he is the energy of a squad, full of life and mischief even now he is expecting his first child later this year. As always, he will still be a tremendous tourist.
"It'll be interesting to see who his half-back partner is; there are arguments for and against both, with the promise of Freddie Burns and the return of Danny Cipriani, who seems to have learnt from his many different stints around the globe. It'll be an interesting conundrum for the selectors!" grinned Easter.
And what of New Zealand? It is no surprise that Easter considers them to be the benchmark of excellence in the game and he expects the Kiwi's to be as strong as ever.
"Graham Rowntree made the point yesterday that excellence in every situation is the bare minimum required to beat the All Blacks. Your attention to detail has to be outstanding to compete with them; every single set piece is crucial and they'll look to attack intuitively from any situation," he noted.
"But their game is based on basics. A magnificent defence, a desire and an unerring accuracy with ball in hand and clear organisation in every conceivable situation.
"One thing to note will be their ability to defend the first two or three contact situations with the bare minimum of commitment of bodies. They will then look to turn over when they have a numerical mis-match and if you factor in they have the best pilferer in world rugby in Richie McCaw you'll realise just how dangerous they are even in defence!," laughed Easter.
"They play a great brand of rugby and it goes without saying that their record is outstanding.
"With Jerome Kaino looking set to return, the power of their back-row is really something else, even without the injured Keiran Read and it's an area where England, who will start without the calming influence of Tom Wood and the power of Billy Vunipola, will simply have to compete.
"In terms of England's options, Robshaw is obviously nailed on to start, I expect Ben Morgan to be at eight, but on the other flank I'll be interested to see if they go for the support and intelligence of the relatively lightweight but outstanding Tom Johnson or recall James Haskell, who knows New Zealand well after his stint there.
"I fancy they'll start with Haskell and use Johnson's ability to cover each back row position from the bench. A curve ball may be to start Joe Launchbury at six, using Dave Attwood and Geoff Parling in the second row. All are decent Test options."
Easter is sang froid about the first tTest but very upbeat about the second, where he believes England must put in the biggest performance of their season.
"The first Test will be what it is. I expect England to compete due to their organisation and defensive skill, providing they don't get too narrow," he explained.
"However, the second Test will be the true benchmark of where we are. The rubber will still be alive and it's at those moments you have to lay your marker down. It's simply not the same to win the last match when the series is already decided. If we could possibly go in one-all, the atmosphere and pressure for the last match would be amazing!
"Make no mistake, the Sarries and Saints boys will watch that first Test frustrated as hell they're not playing. As a player you've done all the work and even if you're a bit fatigued and carrying a knock, you want to be out there.
"You can guarantee intensity in training will be through the roof once the whole compliment is in town. Those players will want to raise the bar and to show they can improve on the previous weekend, whether or not England win or lose," observed the pragmatic Harlequin.
"But they have to see the wider picture. There has never been four consecutive Tests before against the All Blacks. To win one from four might be par or just under. To win two is where we need to be and anything else would be absolutely outstanding.
"One thing worth noting; last time we went to their back yard and won, we lifted a World Cup shortly after.
"This series has everything; one side at their pinnacle, the other improving greatly game on game and with the potential to improve even further. It's the precursor to the biggest challenge of all, the Rugby World Cup, and it's played at a time when domestic rugby is off the scale in terms of interest. I cannot wait for the series and I'm looking forward to talking each week about it.
"Going back to my opening remarks about if the timing is right, without any doubt, yes it is," confirmed Easter.
"In fact it couldn't be more timely."
We thank Nick for his time and we will be back with Expert Witness next week to discuss the England Tour in detail together with overviews of the other Tests around the globe.
Nick Easter spoke to James While
Nick Easter played 47 tests for England as a number eight with exceptional ball skills and a powerful physical presence. Regarded by many as one of the most influential forces in English Rugby, Easter's career at Harlequins has been rewarded with a benefit in 2014/15.