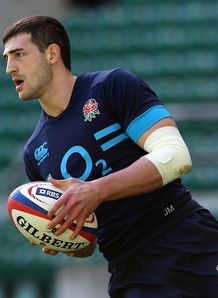 Related links
Teams
England winger Jonny May admits there is no plan when he starts his gamebreaking runs, but that he must improve his finishing.
Wales head coach Warren Gatland summed up the threat of May earlier this week when admitting the Gloucester flyer had caught his attention.
"He's not too sure of which way he's going and I'm not too sure if their players know which way he's going either," said Gatland.
The 23-year-old doesn't disagree, with May having once clocked a time of 4.63 over 40 metres.
"It really is playing on instinct. When I'm out there I'm at my best when I'm not thinking, having just a clear head," said May.
"I react to what's in front of me and play what's second nature.
"I react late and don't make my mind up, or I make my mind up at the last minute, or maybe I don't need to make my mind up....I don't necessarily know what I'm going to do.
"That's just the way I am and that's the way I want to keep playing because that's when I feel I'm at my most dangerous. I have to give it everything I've got.
"When I defend I know that when people stand deep, almost knowing what they're going to do before they get the ball, they are easier to read.
"But people who make the decision late and don't necessarily know what they're going to do tend to be a little harder to defend against."
May's missed chance in the opening minutes against Ireland however has been the one negative of his promising international career, with Stuart Lancaster letting him know those chances must be taken.
"Stuart told me 'you've got to finish that'. Everybody knows it, I know it," added May.
"There's no point going too hard on me or looking into it too much. It's just one of those things. I managed to get my hands on the ball quite a lot early on and made quite a few yards
"But on top of that I had to finish that opportunity. I felt like I'd almost done the hard work, working off that wing and beating that last defender.
"I'd already got over the line so I didn't really need to put it down with one hand.
"It should have been safe under one arm but their defenders did a really good job of knocking it out of my hand before I'd put it down.
"But I've learnt from it and have moved on. Overall I was really pleased with my game."