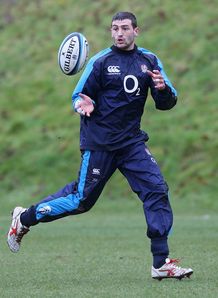 Related links
Teams
England winger Jonny May admits that his nose, which was fractured against France, could force him to leave the field against Scotland.
May suffered an undisplaced fracture in Paris and that lead to his second cap for his country being cut short last weekend.
The 23-year-old revealed problems with his nose in the past, with the area tending to get knocked during matches, and that a stint in the blood-bin may have to happen at Murrayfield.
"I've broken my nose in the past and I've had a few knocks on it recently. It was waiting to go almost," said May.
"I will probably get a smack on the nose early in the Scotland game, but it's sore most of the time anyway. It gets hit in most games!
"If that happens it might bleed, in which case I'll go off and get it treated and go straight back on if I can.
"At least we're aware of what it is this time. I'm not worried about it."
May is renowned for his electric speed and while disappointed to come off so early last Saturday added that he had been left buzzing at the start from the occasion.
"I wasn't fazed by the occasion and was relishing the environment," added May.
"There was no point getting down in the dumps about the nose when I didn't know what the situation was. Luckily enough there was a positive outcome.
"It wasn't particularly painful at the time - it's just that there was so much blood and the doctor wasn't too sure of what it was.
"In terms of trying to protect me, he made the decision that I wouldn't go back on because he was worried that I might have fractured by cheekbone or eye socket."