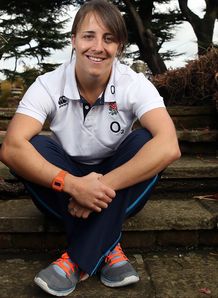 Related links
Teams
England Women's captain Katy Mclean says her side must carry November's form into their clash with France if they are to lift the Six Nations.
England, who play France at the Stade des Alpes in Grenoble on Saturday, picked up a 40-20 win over France and a 32-3 victory against Canada in November. Those results followed a tough 2013 where they lost to Ireland in the Six Nations and also 3-0 in a series defeat to New Zealand.
"The Autumn Internationals were really important for us to get back into form and to start winning again, especially in a World Cup year," she said.
"We did that and now we know we need to build on those performances coming into the start of the Six Nations. It's nice knowing that the last time we played we won but we have not got time for a slow start - it's all about hitting the ground running this year.
"Our aim is to win back the Six Nations but we know for sure that Ireland will be eager to retain their title and we have a tough opening game away to France. It's about focusing game by game and making sure we do not focus on the end result as that's when you finish fall over."
England's opener in the Six Nations carries added significance as France are the host nation of this year's Rugby World Cup in August. After each team picked up a win apiece against each other last season, both England and France will be intent on securing an important scalp.
Mclean added: "This is a massive opening fixture for us. It does as much bigger than playing France in France. France will be desperate to overturn the result in November whilst also wanting to make a point by beating us ahead of the World Cup they'll have that extra ten percent by being at home so we know we will need to be on the top of our opening game to get a good result."