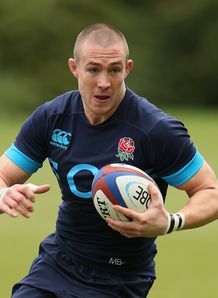 Related links
Teams
After spending the last Six Nations campaign out on the wing, Mike Brown has now made the England full-back spot his own.
The 28-year-old has seen off competition from Alex Goode for now to take back the 15 shirt, proving to be one of England's best players during last year's November Tests.
Now primed to start at full-back against France on February 1, Brown revealed that while he didn't mind being selected out of position, he's much happier now.
"I haven't played much on the wing, but it was a great confidence booster from Stuart [Lancaster, England's coach] to put me in that role when I hadn't played there much," Brown told Sky Sports.
"It showed that he wanted to get me on the field. I think I did a reasonable job, but I was obviously really keen to play full-back. I managed to get to do that, and showed what I can do there as well."
England have lost out to Wales twice over the last two seasons, finishing second in both Six Nations tournaments under Stuart Lancaster. Brown is hoping the third campaign will be more successful.
"The last couple of Six Nations we've failed at the final hurdle, we've not come away with what we wanted to achieve. Hopefully we can learn and change that to the right result this time," added Brown.
"We were massively disappointed with that result (in Wales). The first half was quite close, but the second half they were brilliant. They did a job on us.
"We are on a journey in this squad - part of that journey is about winning things like the Six Nations. That will be a massive confidence booster.
"You can learn so much from winning competitions. It would be great for our journey towards the 2015 World Cup."
Brown is also aware of the Rugby World Cup looming on the horizon in 2015, having missed out on selection for New Zealand three years ago.
"I'm desperate to play in a World Cup. I haven't yet managed to do that," stated Brown.
"To have it in your home country, there's no other betting thing than that in sport. I'm desperate to not just play, not just make up the numbers, but to push on and try and win it.
"But we are still quite a way off. We will just try as a squad take each game as it comes and try and get the right result in each of them."