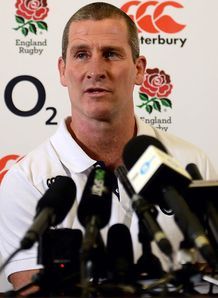 Related links
Teams
Also see
England boss Stuart Lancaster insists the sport should be made as attractive as possible to spectators ahead of the 2015 World Cup.
Lancaster is keen for rugby's administrators to prevent time wasted by collapsed scrums - a huge frustration for many involved with the game - and is open to the idea of trialing a bonus point system in the Six Nations (whereby teams earn an extra point on the leaderboard for scoring four or more tries in a game, or losing by seven or less points).
"I want to encourage everyone involved in the making of the laws and the structure of the game to try and make it as good a spectator sport as humanly possible," Lancaster told the Guardian.
"I've definitely got empathy with those suggesting we stop the clock when there are collapsed scrums - or phases of play when there is not a lot happening - so that spectators get more value for money.
"History would say it (the Six Nations) has been a pretty effective tournament without them (bonus points) and it's not really a decision for me as a national coach but I'd be reasonably open-minded about things like that."
The coach, who took over in 2012, is adamant the RFU can use the World Cup tournament as a tool to encourage greater participation in the sport throughout England.
"For me one of the biggest motivations for England being successful is the impact it would have on grassroots rugby," stressed Lancaster.
"It's about trying to give the country a team people can really centre around and support, which will go way beyond 2015.
"Supporters are the lifeblood of the game and the people playing it, including kids, also have to enjoy it. You want something to get behind and sometimes the complexity of rugby's rules or its stop-start nature can take that away.
"If a kid doesn't particularly enjoy getting smashed by someone twice their size, there could either be weight categories or tag rugby for older ages. I want as many kids to play the game as possible."