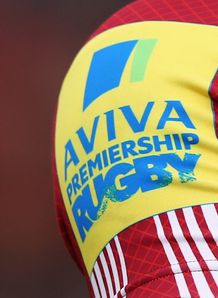 Related links
Teams
Also see
According to reports in the English press, the Aviva Premiership salary cap is set to be raised by around 10 per cent.
The Independent on Sunday reports that English domestic rugby's top flight will get it's first salary cap hike in two seasons in an attempt to prevent an exodus of top players to France.
The current salary cap for 2013/14 is £4.26m, plus one excluded player whose salary sits outside the cap. (Clubs are also encouraged to develop home-grown talent by accessing up to eight £30,000 Academy Credits while other allowances bring the total to around £5.2m).
From next season clubs will have the possibility to spend an extra £500,000, thanks largely to the money from the BT Sport television contract and other sponsorship deals.
The threat of England's top players being lured cross the channel is greater than ever following French clubs' new five-year, €355million (£294m) deal with TV broadcaster Canal+, which is likely to bolster the spending power of smaller Top 14 clubs, giving them access to big-names.
The prospect of an exodus of talent after the 2015 World Cup was highlight by Toby Flood's recent decision to move abroad, forfeiting his chances of taking part in the global showpiece event. Reports suggest his expected move to Toulouse will see his current £150,000 basic salary doubled.
"Where the challenge for us [in England] will be is post-World Cup 2015 when players come out of contract," Harlequins boss Conor O'Shea told the Independent on Sunday.
"There will be England players for whom the chequebook will come out, and it'll be so much money that they will go. It is becoming harder and harder, and the market value of players is naturally going up.
"England's policy of only picking players overseas in exceptional circumstances is a help - the people who want to play for their country will stay - but I've no doubt there will be those who go for the lifestyle change.
''The England team being pulled together for the 2019 World Cup is pretty special, and someone like Danny Care who will be 32, 33 then, so why wouldn't he stay here for that? But others will weigh up their options, think the 2019 opportunity has gone for them and they will go. It's a massive deal and there'll be big money for some people who will grab the headlines.
"How English clubs safeguard and manage players will be a big key. Our salary cap has to evolve to help you to retain players you produce yourself. There are already academy credits but there need to be even more incentives for clubs to do that. The retention of young players as opposed to the recruitment of a huge number of players is the profile this club will have. I don't think you can do both."