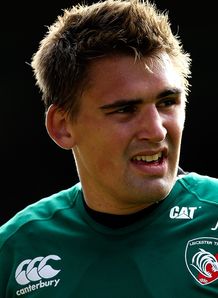 Related links
Teams
Also see
England and Leicester Tigers fly-half Toby Flood has admitted that he is considering a move overseas next season.
England's most experienced player is out of contract at the end of this season and, after almost six years at Welford Road, is pondering the option of a change of lifestyle.
Toulon - as usual - has been mooted as a possible destination where the 28-year-old could follow in the footsteps of former Newcastle team-mate Jonny Wilkinson.
A move abroad would however rule Flood out of consideration for the 2015 Rugby World Cup on home soil, but that seems to be a scenario he has come to terms with.
"I would never leave Leicester for another English club but I know I have to make up my mind as it affects other people and their livelihoods," the 60-Test cap fly-half told the Telegraph.
"I have spoken to Stuart [Lancaster] and tried to be as open and honest as I can be. But, no, I haven't been on the phone yet to Jonny.
"I imagine a move would probably rule me out of England. For me, it is no longer about whether a move might further my career.
"It is about where I feel comfortable, about who I enjoy hanging out with and where I'm living.
"Lifestyle is important. Of course a home World Cup will be amazing but maybe if you flipped memories from the 2007 and 2011 World Cups then I wouldn't have the same bitter taste.
"I realise that Stuart can make no guarantees. There is no perfect decision here, no right or wrong.
"If I stay, then I injure my knee a month before the World Cup, well, that shows there is no ideal scenario.
"It will be based on my gut instinct. When I signed for Leicester, I came down by train from Newcastle and there was the contract in front of me. It was a no-brainer.
"I love this place and that is why everything is taking so long. We have started talking and it is really positive."
Leicester have reportedly given Flood a four-week deadline to make a decision.