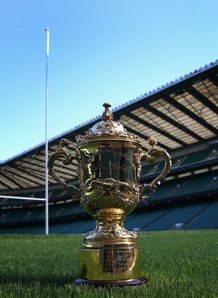 Related links
Teams
Also see
More information has been released regarding the 2015 Rugby World Cup, including kick-off times and ticket prices.
See the full schedule including kick-off times and prices here.
Tournament organisers confirmed that at least 2.3 million tickets will be available across the tournament's 48 matches.
Fans can secure tickets via the public sales process managed by England 2015 or the official travel and hospitality programmes managed by Rugby Travel and Hospitality (RTH).
More than one million tickets for Rugby World Cup 2015 will be made available at £100 or less and 500,000 at £50 or less.
Adult tickets start at £15 for pool matches and there will be child tickets available from £7 at 41 of the 48 matches. Ticket prices will range from £7 to £315 for pool matches, £15 to £515 for knockout matches and £150 to £715 for the Final at Twickenham on October 31.
The key dates to purchase tickets are:
January 1, 2014 - Travelling fan packages go on sale
February 2, 2014 - Hospitality packages go on sale
May/June 2014 - Tickets on sale to Rugby fans through Rugby clubs
September 2014 - General sale application process begins
November/December 2014 - Real time sale of remaining tickets
The public around the world and in the UK can buy travelling fan packages from January 1, allowing them time to make travel arrangements. These will be sold through the Official Travel Agents appointed by RTH.
In February the hospitality programme will launch via RTH, offering a range of package options, catering for a variety of requirements and budgets.
The 'Rugby fans through Rugby clubs' programme will launch in May/June 2014. England 2015 will work with the RFU and its clubs to make available tickets to club members who support the game week in, week out in the host nation. England 2015 will also work to make this available to European Rugby Unions. Details on the club ticketing programme will be finalised in early 2014.
In September 2014, one year from the tournament, general sales will begin through a public application process. Fans will be able to apply for tickets with oversubscribed matches being entered into a ballot system.
Following a full tender process, England 2015 has appointed Ticketmaster as the official ticketing provider. Ticketmaster is the RFU's ticketing partner and they will deliver the online platform.
The final phase of ticketing will see any remaining tickets go on real time sale in November/December 2014 with an ambition to sell out the grounds ahead of the tournament which kicks off on September 18, 2015.
---
The kick-off times are part of a collaborative process between England 2015, RWCL, host broadcaster ITV and the tournament's key stakeholders to ensure the best-possible platform for the 20 participating teams, fans attending the matches and sports fans watching the broadcast in more than 200 territories worldwide. Exact kick-off times are subject to final broadcast schedules.
The result is a uniform spread of four kick-off times for the pool stages: 12:00, 14:30, 17:00 and 20:00 (local). This compares favourably to a range of 11 times for France 2007 and nine at New Zealand 2011.
The opening match of Rugby World Cup 2015, between hosts England and the Oceania 1 qualifier at Twickenham, kicks off at 20:00 on September 18.
New Zealand's title defence will begin against Argentina at Wembley at 17:00 on September 20, while the Quarter-Finals and Semi-Finals are scheduled for 14:00 and 17:00 at the Millennium Stadium and Twickenham.
The Rugby World Cup 2015 Final at Twickenham will kick-off at 17:00 on October 31, guaranteeing a prime-time television platform in the host nation.
"Today's announcements allow fans from around the world to begin their planning knowing where, when and at what time the world's best teams will be playing across the 13 Rugby World Cup 2015 venues," said RWCL Chairman Bernard Lapasset.
"We believe that this match schedule is good for fans attending the matches and watching from their armchair. Combined with an equitable match schedule, it has the teams and fans at its heart and the continuity and balance of regular time slots will maximise anticipation and engagement.
"The stage is now set for a compelling Rugby World Cup in England that will deliver unforgettable memories and exceptional experiences for existing and new fans, maximising accessibility and furthering the profile of Game to global audiences around the world."
"Fans can now plan for Rugby World Cup 2015 with the announcement of kick-off times alongside the tournament ticketing programme," said England 2015 Chief Executive, Debbie Jevans.
"Our key priority is ensuring we give the teams a balanced and equitable schedule which we believe we have achieved. We have consulted with all our transport providers, our venues and host cities and we feel that we have put together a schedule that takes into account all of the needs of our stakeholders.
"Now that fans have the final piece of the jigsaw, they can start to plan their tournament, be it in stadia or watching from home, and make this a truly memorable celebration of Rugby."