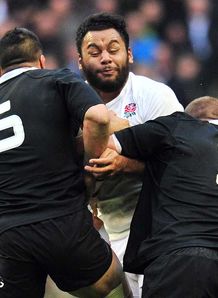 Related links
Teams
England number eight Billy Vunipola is revelling in the plaudits after his barnstorming performance against New Zealand on Saturday.
Although England eventually succumbed to a 30-22 defeat, Vunipola impressed with his powerful thrusts in the loose, with a total of 18 carries.
"Coming into this game I had a point to prove, maybe I was lucky to be starting after Morgs [Ben Morgan] came on and played well last week," Vunipola told the RFU website.
"On the pitch you just see them as another player, you don't see Richie McCaw and think about what he's done, you just see them running up at you and all you've got to do is run as fast as you can and hope for the best.
"Maybe sometimes I became a bit one-dimensional but I did the job I was asked to do by Graham Rowntree."
Having now experienced the All Blacks first-hand, the back-row was appreciative of the world champions' speed of play and accuracy in every aspect of their rugby.
"It was quick [against their back-row] but awesome, that's one word I'd use for it," added Vunipola.
"To see the way they go about it, not only as individuals but as a team, you can see why they're top of the world. They're so organised, all their moves are set out, the forwards know what they're doing. I'm not saying that we don't but that they're well drilled.
"To play against the best teams you need to play your best and I think we played our socks off. Maybe the accuracy wasn't there, but we know that we're getting there.
"We were in with a shot but they're experience told at the end. But the more we play against the best teams, the better we are going to be. And we've got to play them four times next year, so hopefully we can do ourselves and the fans justice and do some damage against them."