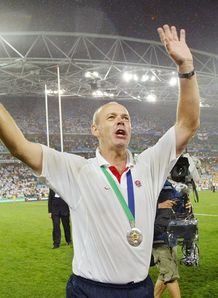 Related links
Teams
Also see
Former England boss Sir Clive Woodward has heavily criticised Stuart Lancaster for the lacklustre performance against Australia.
The Rugby World Cup-winning coach was at Twickenham on Saturday to celebrate the 10-year anniversary since England's success in Sydney.
After watching England struggle in the first-half before coming from behind to win thanks to some questionable officiating and sloppy play from the Wallabies, Woodward slammed England's tactics and the lack of entertaining play during the 20-13 win.
"Stop worrying about the opposition and start focusing on yourself," Woodward wrote in the Daily Mail.
"England's most significant flaw was to allow themselves to get sucked down to the level of the Australian team - and the Wallabies in the second half were worthy of a one out of 10.
"I would love to sit down with both head coaches and ask a simple question: 'What were you both trying to do?'
"If you went to a rock concert, or to the West End, and saw a quality of performance as bad as that then you would feel disgruntled and there was certainly an odd, unsettled atmosphere in the ground.
"Every time England won a penalty you could tell the initial instinct is to look around or into the stands rather than taking an immediate decision.
"It's not the personnel, it is the way England are playing, and speed of play comes down to the coaches.
"We are not throwing down the gauntlet at Twickenham like we used to when it was a fortress.
"If England have any aspirations to be the number one ranked team in the world, they have to play in a very different way and speed of ball is top of the list."
England will face Argentina and New Zealand at Twickenham over the next two weeks.