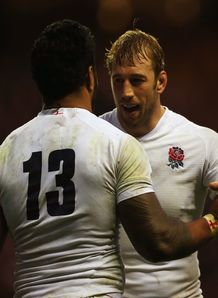 Related links
Teams
Also see
Intelligence is a word not often associated with English rugby displays.
Endeavour - always, power - undoubtedly, passion - unquestionably. But intelligence? A rare descriptor, and even rarer when combined with two other equally endangered words, pace and tempo. But on a chilly November day bar for a early stuttering skirmish for the first 15 minutes, this is exactly what we got from Stuart Lancaster's men, as the individually talented Fijians were torn apart by clever organisation, rugby intellect and worthy ambition.
At the heart of England's display was a thrilling display of cheek and innovation from Saracens full-back Alex Goode, a razor sharp effort at the base from Danny Care, mature control at ten from Toby Flood, underpinned with a superb, heads up, mobile and pacey effort from all three members from England's vertically challenged back-row.
Yes at times, the final pass went astray and Stuart Lancaster's team will rue that the scoreboard wasn't even more impressive, and England still failed to come sprinting out of the blocks, leaving it until the 23rd minute to open their account.
Planet Rugby's James While caught up with two of England's key back-rowers, skipper Chris Robshaw and a beaming Tom Johnson, the blindside who crossed the whitewash for the first time in his England career.
"Whether or not it was rust or nerves I'm not sure; but it's something we're aware of and won't be looking the repeat, agreed Chris Robshaw, England's inspirational leader.
"We talk about a full 80 minute performance and that was a great 60 minute one. But where attacking intent was concerned, that was a massive step in the right direction.
"Mentally, we all know that next weekend will be another level altogether, and we've a 5 days to work on certain things. We tried to force it too much in the second half and got a little loose. But, going back to that intent, I'm delighted with that.
With the mobility of fellow back-rowers Johnson and Thomas Waldrom at the fore, Robshaw was at pains to point out the change in thinking evolving within Club England. The pace of recycle, the decision making of all three men was exciting to see and Robshaw agreed that they'd picked a balance of skills to play a brand of attacking, high tempo rugby.
"We want to play flowing rugby, we want to be exciting to watch and we want to send 82,000 home with smiles on their faces. As a unit, we know there's times we need to keep it tight, when to 'bash it up', but , as a team, we're committed to playing brand of rugby that both we enjoy and hopefully the spectators enjoy too, and as a back row unit, we also want to have fun running and handling the ball. Having front rowers who love the ball in hand like like Tom Youngs and Joe Marler really helps these aspirations too, and I think Tom went particularly well, especially in his line out work," he said.
Try scorer Tom Johnson was also thrilled: "We've had two weeks in camp together and to be honest we were champing at the bit to get out there and just play rugby! It didn't go our way for the first ten minutes, but, we saw and reacted to the situation, we went back to basics, built a little platform, and went from there. I was delighted with the way we were going in that middle 40 of the game."
As a unit, these three offer something different to many of England's recent loose forward combinations as they are relatively lightweight, fast and intelligent ball players. Johnson agreed that there was conscious effort to use club form and natural skills to the benefit of the team.
"If you look at the offload game Chris Robshaw is bringing to Quins, add in The Tank's (Thomas Waldrom) huge experience, great hands and go-forward then we're delighted with that perceived balance in the back row," he said.
"I've been given much more of a linking role at Exeter, and all three of us have talked to Stuart about how we integrate these three roles into one unit. We've also got Tom Wood on the bench who can cover all three positions, and, although early days, we're delighted with how it's going. The signs are good.
"We know we're not going to beat teams anymore by just beating them up up front. We have to have more to our game plan, to move the point of attack quickly, to anticipate the opportunity. Mike Catt has absolutely drilled into us the need for pass completion and making the ball do the work. So yes, we made a decision only to take the ball into contact when we needed to."
And, of Johnson's first Twickenham try the Exeter man was thrilled to get on the score sheet.
"I wasn't sure exactly what happened. I think Chris (Robshaw) was over the goal line himself when he passed it; in fact I thought he was going to dummy and go so when he did pass, I was surprised and thought 'Just don't drop the bloody thing'! All I had to do was dot it down - one metre carry? Something like that. I'm sure when I get back to Exeter it'll have changed to about a 40 yard run in though!
"I don't think of myself as a regular choice; I'm just thrilled to be starting, I'd never, ever experienced a home crowd like that today, and I promised myself every time I pull this shirt on, I'll give it my best shot, enjoy and remember it and just be myself, and if I don't play well enough, at least I know I've given it my all."
So, Lancaster's reign continues with its pragmatic theme. But maybe this week we saw a few optional extras, and good ones at that, added to the specification list - intent, precision and pace. The England management will be under no illusion next week will be another level of intensity altogether, but they'll be relishing the prospect, and on this form, who would bet against the Cook Cup staying in its place at Twickenham?