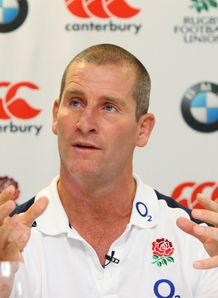 Related links
Teams
England head coach Stuart Lancaster has hinted that France-based players are unlikely to feature in his squad for the upcoming November Test series.
Steffon Armitage, who was voted the outstanding player in the Top 14 last season, and his brother Delon have started 2012/13 in impressive form.
But with his squad being named next Thursday, Lancaster reiterated his stance on selection but wouldn't formally shut the door on those abroad.
"What makes it difficult when a player plays in France is they are not available for our camps when we need them," he told BBC Radio Five Live.
"We have got a camp coming up at the end of this month (at St George's Park) and we have an agreement with the Premiership clubs to have access to the England players.
"It is not under the IRB release window so we can't get the lads who are in the French clubs.
"Toulon were in the French final the day we played South Africa in the first Test (in June) so it creates problems from that point of view.
"You would never say never but it is always going to be harder for players playing in France."
Forwards coach Graham Rowntree also stood by the showings of Chris Robshaw when questioned about what impact Steffon Armitage's absence might have at the breakdown.
"Over the summer tour Chris Robshaw stole more ball than any other seven playing in the summer, including New Zealand and Australia, but he is also a credible line-out threat and a ball-carrier," he said.
There have also been calls for in-form number eight Nick Easter to make a return to the squad, but the coaches believe he does not feature in England's long-term planning.
"Nick Easter is playing well," Rowntree said.
"We are well aware of his form but since this coaching crew came together, post the World Cup, we decided to look a bit younger, the likes of Ben Morgan, Thomas Waldrom, Phil Dowson have been playing eight for us.
"We are quite happy with their development because we have to look at the next World Cup.
"The door is not closed for Nick. He knows that. Age is not so much counting against him but the guys we have got there we are very happy with.
"If there is an injury, Nick knows he is one we will consider."