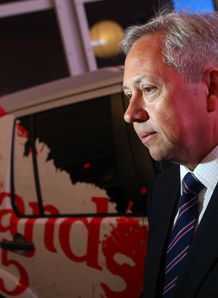 Related links
Teams
Paul Vaughan has stepped down from his post as chief executive of England Rugby 2015 (ER 2015) by mutual consent, it has been announced.
ER 2015 explained that a "fresh injection" was needed in the next stage of being ready for the RWC, with a new chief executive in the offing.
"Paul has been at the heart of the RFU for the past 11 years, most recently here as CEO of ER 2015, where he has laid some very strong foundations," revealed ER 2015 chairman Andy Cosslett.
"We are grateful to him for all the hard work he and his team have put in to enable ER 2015 to be ready for the next phase. Preparations have been continuing at a good pace, the planning is on schedule and stakeholders are comfortable.
"With just over three years to go, now is a good time to add a fresh injection of experience to take us up to the next level. We're determined to make the most of this once in a generation opportunity for rugby in this country, to make this truly the best Rugby World Cup there has ever been."
Rugby World Cup Limited and the IRB have also expressed their gratitude to Vaughan.
"On behalf of RWCL and the IRB I would like to thank Paul Vaughan for his strong contribution to developing the early foundations for the successful delivery of Rugby World Cup 2015 in England," said RWCL Chairman Bernard Lapasset.
"Paul leaves with tournament preparations on schedule and advancing well. RWCL continues to enjoy a strong working partnership with England Rugby 2015 and the RFU and we look forward to working with all stakeholders to deliver an exceptional tournament of which England and the global Rugby family will be proud."