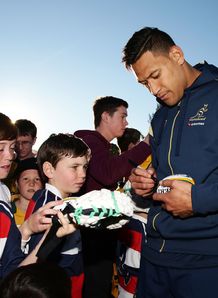 Related links
Teams
Australia full-back Israel Folau has laughed off talk that he may be in a lean spell after he failed to cross in Super Rugby's closing fortnight.
Folau, who scored twelve tries in the regular-season of Super Rugby, was excellent for the Waratahs but failed to go over in the knockouts.
But the Wallaby has played down that fact as he performed strongly despite not getting over the whitewash against the Brumbies and Crusaders.
"For most people they probably see those games as being quiet," he told The Age ahead of a Rugby Championship opener against New Zealand.
"In that Brumbies game we didn't see too much ball, but looking back at the final against the Crusaders, watching the game over again, I was pretty happy with how I contributed to the game.
"The only thing that stands out for most people is that I'm not scoring tries, but I'm really happy with how things are going."
Folau also noted that Adam Ashley-Cooper's brace of scores in the Super Rugby final saw him having two defenders monitoring him whilst the outside centre was diving over.
"For me, watching that, you know the defence is thinking about me during those plays," he added.
"You know you create opportunities for other guys around you, so that's the evidence there that I'm doing my job for the team.
"It's not always getting the ball in hand and scoring tries - that's what most people see when something like that goes missing. But that's clear evidence for me that I'm doing my job for the team, when I'm creating opportunities for the guys around me.
"I'm very excited about that."