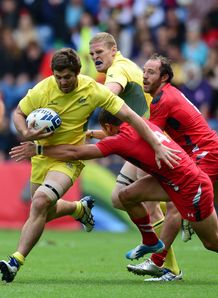 Related links
Teams
Wallabies flanker Liam Gill expects several Super Rugby players to make themselves available for Sevens for Rio Olympics.
However, the Reds tearaway, who was part of the Australia team that won a bronze medal at the Commonwealth Games in Glasgow at the weekend, warned the Australian Rugby Union about picking too many Super Rugby players at the expense at Sevens regulars.
Gill said playing Sevens was a totally different game to what he is used to in the 15-man game.
"It's a completely different beast," he told the Sydney Morning Herald.
"I said it as soon as I made the transition back. Attack is different, defense is different. I do think it would be tough for Super players to be picked.
"It's a different sport and it's hard to get your head around. You need a certain amount of time in the sport. The likes of Folau, amazing talent. What they (the ARU) do I don't know. But hopefully I'm in the picture somewhere."
Gill was a late addition to Australia's squad for the Commonwealth Games, and, although they lost in the semi-finals against New Zealand, he said his return to the shorter version of the game has made him determined to be part of the squad for Rio in 2016.
"As of a month ago, I didn't even expect to be a part of this," he added.
"Fast forward to standing on the podium, it's unbelievable. We were aiming for gold but to come away with a medal, we couldn't be more proud of our achievements.
"You look at a crowd like this, a stadium like this, it's hard not to be a part of it all. To come back and to love it as much as I have, surely it's in my mind in two years time."