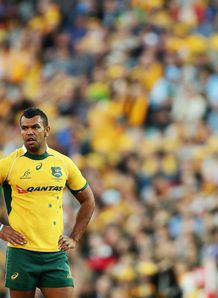 Related links
Teams
Waratahs and Australia back Kurtley Beale admits his future is up in the air with his ARU contract finishing at the end of the year.
Beale is producing some of his best form for the Waratahs during their rise to the top of the Super Rugby log.
He featured off the bench three times for Australia in the recent Test series against France and has turned his career around after a series of off-field incidents last year, with the Rugby World Cup taking place in 2015.
But Beale admits his future in Sydney and Australia is far from certain with his best interests in mind - a statement that will attract the attention of clubs in Europe and Japan.
"I want it to be right for me. Especially if I'm not starting in the Wallabies, I have to look after my future," Beale told Fairfax Media.
"There are a lot of players in front of me at the moment and I have to weigh up my options.
"The only thing that can help me is to stay focused, keep my head down, play good consistent rugby, and hopefully that will help me with the decision.
"I know where I'm at rugby-wise, but if they see it differently then that's when I have to start to look at the other options that I have.
"The World Cup's around the corner, that would be pretty nice to be involved with, but I'm just sticking to what I know.
"If people don't see my rugby the way I think it's going, then for my own sake I have to weigh up my options.
"I'm no different to every other player out there. That's the way it goes, unfortunately."