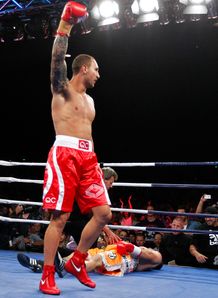 Related links
Teams
Ahead of his latest fight, Reds and Australia fly-half Quade Cooper has reaffirmed his commitment to continue boxing whilst being a rugby player.
Cooper faces 40-year-old Australian boxer Warren "The Fortress" Tresidder in Brisbane on Wednesday, saying he is keen to juggle both sports.
But the fly-half was aware that Australian Rugby Union chief Bill Pulver has indicated boxing could be out when negotiations start for a new deal with Cooper's contract, due to expire later this year.
"It's made me a more disciplined person and better athlete and only helped my rugby," he told Associated Australian Press ahead of the fight.
"I have a great passion and love for the sport. It's not interfering in my rugby and I won't let it. I love doing both. I won't let either one come in the way of the other," he added before the public weigh-in on Tuesday.
"I still haven't had a chat with Bill [Pulver], but after everything is out of the way I'm sure we'll be able to sit down and chat about the future. I'm looking forward to that. Right now, I'm just looking forward to this fight.
"I'd love to continue to do it and I will continue to do it. I don't want to get too far ahead. A lot of people have spoken about my potential in the sport but potential is one thing, doing it's another.
"I'm one round into one professional fight and that's the reality of it. I've shown a love for the sport but then it's back to rugby season and trying to win a title for the Queensland Reds."