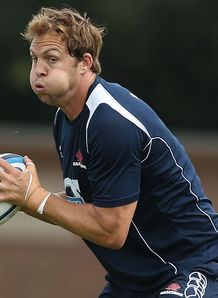 Related links
Teams
Former Australia number eight Stephen Hoiles is on the verge of a return after not playing since 2010 with Achilles tendon problems.
Hoiles travelled to Sweden to visit Dr Hakan Alfredson, "if not the best, then one of the best tendon surgeons in the world" according to Hoiles, and is now part of the Waratahs training squad for the new Super Rugby season.
The 32-year-old had been due to captain the Brumbies in 2011 under Jake White but was let go when his injury struggles continued. After consultation with Alfredson, a loose bone fragment was discovered and then removed.
"My father and I flew over. We had about 11 flights in 11 days. It was like a massive trek to get there and then I was back out of there about five days later," said Hoiles.
"[Alfredson] just deals with chronic cases or people who are a little bit left of centre."
"He split me down the back of my heel, opened me up and cleaned it up while I was awake. It was probably a two-hour operation but, after pretty much two-and-a-half, three, years of utter frustration because of it, it's all sorted now."
"I had to leave Canberra because of it, because I had another year left on my contract and Jake White wasn't really happy coming into the side with the captain potentially not going to play for the whole year."
"I was either going to go over [to Sweden] and he'd tell me that it's unrepairable and that I'm done, or he'd be able to fix it. So either way, it was going to be closure. If it was no good, I could accept that. I'd have given it every shot."
Having now undergone ten weeks of off-season training with the Waratahs, Hoiles will get an opportunity to impress in the trail game against the Melbourne Rebels on February 1, but admits there are no guarantees.
"There's been no guarantees, no promises," added Hoiles.
"I don't know where it's going to lead me footy-wise. I've got to work pretty hard to try and get an opportunity to play here because there's a lot of guys in front of me."
"But I still believe that the years I missed may be a bit of a blessing for me. I still feel like I've got a couple of good years in me at least."