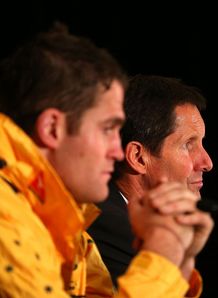 Related links
Teams
Australian coach Robbie Deans admits that the decision as to whether or not he remains at the helm of the Wallabies is not up to him.
Deans has come in for some fierce criticism during his tenure with the team and the questions surrounding his future will only intensify following Australia's series defeat to the Lions.
"You don't presume anything in this industry. Those decisions are made by others," the Kiwi said after his side's loss in Sydney.
For his part, skipper James Horwill backed Deans' skills but said that the immediate aftermath of a loss was not the right time to address such issues.
"Robbie's the coach. He's contracted, he's the coach. He's a great coach and now's not the time to time to talk about it," said the second rower.
"We'll review everything at the end after this. Five minutes after I've played a Test match is not the time to talk about coaching positions."
Deans remains confident that Australia will perform better in the Rugby Championship - where they will face New Zealand, South Africa and Argentina - than they have against the Lions.
"It's a different competition, different opponent, different circumstance and a different method in terms of what's coming the other way," explained Deans.
"The Lions play a game that we're very familiar with, we're very conscious of the fact that we have to take them out of their comfort zone, we weren't able to do that, we gave them a leg up, which really allowed them to thrive.
"With a lead on the board it meant they could play in a way that meant they could really put the pressure back on us, then use the set piece. The Rugby Championship is a totally different tournament, I've got no doubt that these blokes will respond, they're too good not to."