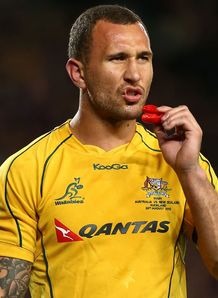 Related links
Teams
Reds coach Ewen McKenzie said Quade Cooper wanted to put his problems behind him and was hungry to win the Wallabies' number ten jersey back.
According to McKenzie, the outspoken Australian fly-half is desperate to play for the Wallabies again despite his controversial comments about the team environment.
Cooper has been charged with bringing the game into disrepute for his incendiary comments about the Wallaby setup and coach Robbie Deans, which reports said deeply angered current and former players.
He is due to front a code-of-conduct hearing on Wednesday and reportedly faces the threat of his current Australian contract, which ends on December 31, being torn up, or the prospect of a hefty fine.
The disgruntled star made headlines last month when he lashed out at the environment within the squad, which he said was "destroying" him.
The Reds playmaker, currently sidelined with a knee injury, reiterated his grievances on a television rugby programme less than a week after first making his feelings known on Twitter.
"While there's been a lot of talk in recent times I've never ever thought that he wasn't passionate about the Reds, about Australian rugby," McKenzie told reporters.
"He's one of the most competitive guys I've met. I'm sure he'll want to play No 10 at the highest level he can in front of the biggest crowds he can possibly play. That's him.
"He wants to showcase (his skills) but the thing people miss is that he likes the responsibility of making things happen and hav(ing) a game plan and taking it on the field.
"He likes to be empowered to do that and he feels that's his job. I've seen no change in him in that sense," he added.
In interviews Cooper, 24, had expressed frustration about the defensive style of play favoured by Deans and said that he did not want to be involved with the Wallabies under the current regime.
"I'm just trying here to be the best that I can be and that's why I said I didn't want to be involved in that kind of environment," he said last month.
"For me to continue to improve as a player and as a person you want to be involved in the best possible environment and I feel that environment is sort of destroying me as a person and as a player."
Australian Rugby Union chief John O'Neill said at the time that the ARU was "utterly confused" by Cooper's outburst.