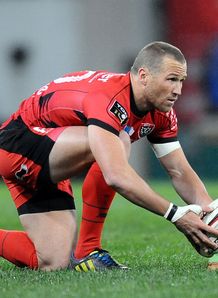 Related links
Teams
Toulon centre Matt Giteau has offered his services to Wallabies boss Robbie Deans and made peace with his former coach after falling out before last year's World Cup.
That is the word from a Wallabies spokesman who confirmed to the Sydney Morning Herald that Giteau - who was was sensationally excluded from Australia's World Cup squad last year and subsequently criticised Deans via messages on social media - is keen to return to the international arena to help out the Wallabies who are in the midst of an injury crisis.
It is understood that the 92-Test veteran has sent Deans a series of messages in which he makes his offer.
The pair have also put last year's spat behind them and exchanged pleasantries in their most recent communications.
But although Giteau's offer would be appreciated, it is Toulouse scrum-half Luke Burgess' services which Deans would much rather have at the moment.
With first-choice scrum-half Will Genia sidelined through injury and current number nine Nick Phipps still inexperienced at Test level it is understood that Deans has contacted Burgess about making a possible return for the Wallabies recently.
Deans tried to play down reports that he will ask the Australian Rugby Union to consider allowing Burgess to be eligible for selection on the end-of-year tour to Europe.
The fundamental principle preventing an overseas-based player from being selected for the Wallabies is something which nobody believes the ARU board would be easily convinced to change.
"It would be a big precedent, it would be something that, if they considered it, they wouldn't take lightly," Deans told the Sydney Morning Herald.
"More importantly we've got a couple of good blokes here.
"Brett Sheehan's stepped in and done a great job. He's been fantastic within the group, and [Phipps] is responding to the challenge superbly."