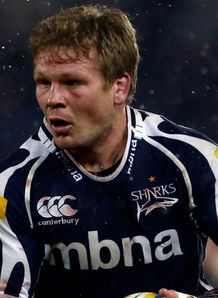 Related links
Teams
Sale skipper Dan Braid admits his team will make the Premiership their priority as they try to match last season's sixth place finish.
The Sharks surprised a lot of people last season by finishing in the top six, a season after they had finished tenth.
Having qualified for the ERCC, they were handed the toughest of groups, taking on three of last year's semi-finalists, Clermont, Munster and Saracens.
As a result they will go into Europe as heavy underdogs to get out of the group stages, and former All Black Braid has revealed that domestic rugby will be their bread and butter.
"We've sat down and had a little look at where we want to be come the end of the season and we want to consolidate on last season and be in the top half of the Premiership," he told the Manchester Evening News.
"The Premiership will be our number one focus. We want to be up there.
"A lot of the teams have recruited pretty well so it will be tough. I think we've got the squad to go well in the Premiership, and looking at the European draw we've got, it is tough, it'll make the whole season tougher.
"But it's very exciting and we'll be underdogs in that pool but that can be a good thing for us - how we were last year.
"Teams can take us lightly and we know what we're about and what we can achieve. We're playing some pretty good rugby at the AJ Bell stadium, so there's a lot to look forward to.
"I've been talking to supporters and they talk about past European games that they've been going to, going to Clermont, and Munster, all the supporters have got very fond memories of those occasions in the past.
"It's about the excitement of that competition and getting some good crowds down here and we'll have to perform well in those games."