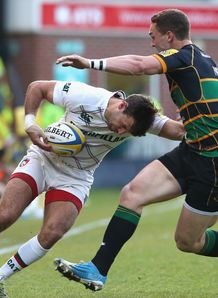 Related links
Teams
Leicester wing Niall Morris has said that he hasn't watched the 2013/14 Premiership final, with his holiday disrupted by semi-final heartache.
The Irish finisher, who was part of the side that lost to Northampton at Franklin's Gardens, is intent on going all the way in the coming season.
"I didn't watch the final and I had a few weeks off trying to get over the defeat in Ibiza and Portugal," wing Morris revealed to the Leicester Mercury.
"But it was all I could think about for 10 days afterwards.
"I convinced myself that I had to forget about it but I still haven't and coming back in for pre-season has made those memories come back.
"I don't want to dwell on it but we have to work hard and make sure we do not make those mistakes again and that history does not repeat itself.
"I still haven't watched the final. But we have a driving force now and hopefully, we can use that to our advantage.
"We not only lost a good run against them (Saints) but we missed out on the final for the first time in a long while, too."
Morris added that Leicester Tigers were not up to their usual high standards in the league last term as constant changes in personnel played a factor in their eventual fate.
"We didn't play our best rugby all season," he continued.
"Injuries were a problem and it was a crazy time. One guy came in and another one got injured.
"But we also didn't take our chances in games where we should have got bonus points.
"We left tries out there and we need to address those issues."