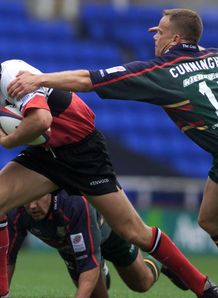 Related links
Teams
London Irish on Tuesday remembered the untimely passing of the great Jarrod Cunningham, who passed away in 2007.
Cunningham is fondly remembered by all at the club for his exploits on the pitch and his exuberant personality off it.
The New Zealand full-back fought Motor Neurons Disease before passing away seven years ago, inspiring many to take on the adversity to overcome it.
Jarrod began his career with the Blues in Super Rugby, and first came to the Premiership in 1998 where he won 82 caps for London Irish.
As the league's leading points scorer in 2000/01, and having scored 848 points for the club in total, he is regarded as one of the great legends to play for Irish.
"He was a great player and a great mate. There are a large group of us who played with him that miss him dearly," said Irish's forwards coach and Cunningham's former team-mate Glenn Delaney.
Delaney remarked on Cunningham's exciting playing style that he took into his fight against the disease.
"The way he tried to play was all action, kicking was a last resort! But as a man the way he took on the biggest fight of his life was awe-inspiring.
"Gone, but never forgotten."