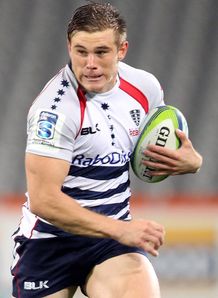 Related links
Teams
Rebels full-back Jason Woodward admits that leaving Melbourne isn't easy, but is excited to take on his old team-mates next year.
The New Zealander is returning home to play for the Hurricanes in Super Rugby, in an attempt to crack his way into contention for the All Blacks.
An accurate goalkicker who has been one of the Rebels' standout performers this year, Woodward admitted that he would miss the squad after a good two years.
"It's obviously disappointing to leave such a great group of guys; the playing group over the last two years, although it has changed a lot, it has always been a really tight-knit group," said Woodward.
"The fact that nobody is actually from Melbourne, and we've all had to move here, puts us all in the same boat and has sort of glued us together stronger than other teams I have been a part of.
"Off the field, there's been some good times mucking around; playing golf, and other little things like that, I will really miss. Hanging out with guys like Bryce Hegarty, Luke Jones and Lachie Mitchell; I've gotten along really well with a number of guys, and I could sit there and talk about the whole team.
"I have had really good relationships with guys in the team, and to be leaving them is sad but to have the opportunity to play against them in the coming years is certainly something I am looking forward to."
Picking out a highlight, Woodward references the fixture against the British and Irish Lions in 2013.
"I guess you always look back and look at the victories you've had, but I think the most special one that sticks out in my minds was when we hosted the British and Irish Lions at AAMI Park last year," added Woodward.
"It was massive to get the opportunity to play against those guys at a packed home ground, and it's something I will never forget. I just remember that the atmosphere that night was awesome, and playing with my mates against those guys was pretty cool."