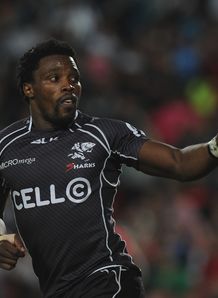 Related links
Teams
Also see
Sharks winger Lwazi Mvovo believes they must go "back to basics" if they want to rekindle their form in Cape Town this weekend from earlier in the season to reignite their Super Rugby bid.
Mvovo is among a group of eight players who had played in all 15 games for the Sharks this season. He admitted fatigue had been catching up to him, although he was now ready for the final push.
"I was tired at the Springboks, but we are professionals and have to bear it and move on," stated Mvovo.
"Lots of guys have also been rested and some others have played a lot, it's a matter of just performing on the week and doing the recovery after the weekend and getting back on your feet again.
"I did get a bit of a break with the Springboks because I didn't play all the games. Every team and every player needed those four weeks to be off."
The Durban side, long time leaders of the competition in 2014, have slipped up badly over the past two rounds, losing to the Stormers and the Cheetahs either side of the June international break to drop to third on the overall table.
"We just want to take a step back and look at what we can do," said Mvovo.
"We need to get back to the basics. Have a look at the mistakes we made, just rectify that and move forward."
Director of rugby Jake White saw his team go down 21-19 at home to their Cape rivals, whom they face in their final regular season game at Newlands this week. He then witnessed an almost second-string team lose 27-20 to the Cheetahs in Bloemfontein over the past weekend.
It meant they must now win, in all probability with a bonus point, against the Stormers in Cape Town to have any chance of finishing in the top two and, with it claim an automatic semi-final berth.
The number one and number two ranked sides, currently the Waratahs and Crusaders, have a bye on the opening weekend of the playoffs next week.
"There's so many wrongs we did in the last two games that we lost," added Mvovo.
"So the last couple of days we've spoken about it, we just want to rectify that, get back to our game plan and go to Cape Town and just play.
"Get back to the dream, the standards and the goals we set ourselves at the beginning of the season.
"We played very well overseas and I'm sure if we put our mind back to our game, we can get back to winning ways."