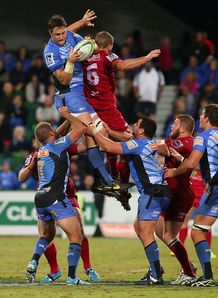 Related links
Teams
Force forward Hugh McMeniman has been suspended from all forms of the game for one week up to and including July 12, 2014, ruling him out of this weekend's crunch game against the Brumbies.
The SANZAR Duty Judicial Officer Nicholas Davidson QC accepted a guilty plea from McMeniman for contravening Law 10.4 (a) Punching or Striking, after he was cited during a Super Rugby match at the weekend.
The incident occurred in the 29th minute of the match between the Force and Reds at nib Stadium in Perth on Saturday 5 July 2014.
The video footage demonstrates that McMeniman dropped his knee into the side of Ben Lucas, with no great force, and while initially contesting a deliberate strike, the Duty Judicial Officer (DJO) process does not allow a defence as such.
Lucas' condition was not finally assessed according to the medical report available but the player directly indicated to McMeniman that no serious injury had been sustained.
On the basis that this was a deliberate application of the knee, it was indicated to the player that a one-week suspension would be imposed if the breach was admitted and he accepted that penalty.
While the entry point for striking with the knee is three weeks, the DJO considered that this was no more serious than another lower end striking sanction which carries a two-week entry point.
Together, with McMeniman's outstanding disciplinary record over nine years, this warranted a discount to one week.