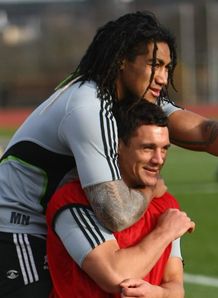 Related links
Teams
Despite the fact that he'll be making his first start of 2014 and not in his regular position, Dan Carter is ready to go in Christchurch.
Carter will start in the number 12 jersey on Saturday for the Crusaders opposite All Blacks team-mate Ma'a Nonu, playing for the Blues.
Set for a stern assessment of his defensive capabilities since returning from sabbatical, if Carter was concerned about the prospect then he didn't express it publicly.
''We have played alongside each other at 12 and 13 for the All Blacks, we are good mates and I look forward to coming up against him this weekend,'' Carter told Stuff.
Crusaders head coach Todd Blackadder stated that bringing Carter back into the side, along with Kieran Read and Israel Dagg, would give his team the experience missing in their defeat to the Hurricanes last weekend.
Also with the conditions on Saturday expected to be wet, a kicking combination of Colin Slade and Carter could prove key to success.
''By putting [Carter] in the midfield it will give us a lot of experience,'' said Blackadder.
'I think the weather conditions will play a part too, it could be pretty cold and wet.
''Often that stops that type of football and who can control the ball the best. Quite often that stops that front-foot ball and the ability to attack so it's about who can control the ball and where they play their rugby.
''I know that Sladie was disappointed in his game last week and has shown all year that he is better than that.
''When you talking about two of the best players [Carter and Read] with a lot of experience it is probably what we lacked last week - just direction and I suppose a little bit of game-sense at crucial times.
''What's really showed throughout this competition is how you deal with your losses, whether you get back on your horse and come out fighting.
''Last week was certainly disappointing. But we are in control of our destiny from here on in.''
Two other changes for the Crusaders see Nemani Nadolo selected on one wing after returning from Test duty with Fiji, while Kieron Fonotia is also moved out wide. Neither player lacks for size, with Blackadder sending a message to the Blues.
''The way the Blues play, if they want to play expansively they are going to get hit hard."