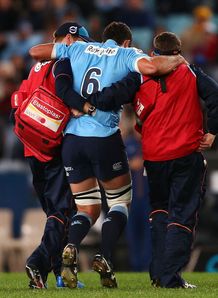 Related links
Teams
Brumbies captain Ben Mowen expressed his genuine regret after Waratahs counterpart Dave Dennis suffered a serious knee injury.
Dennis was carried off with the help of the 'Tahs medics with a season-ending ACL knock, leaving the 'Tahs preparing for the worst.
A former team-mate of Dennis during his time in Sydney, Mowen was full of disappointment for his old friend.
"I feel absolutely gutted for the bloke," said Mowen.
"He's obviously a good mate of mine and we played together at the 'Tahs for many years.
"I was actually on the training paddock with him when he was coming back from his first ACL (operation) and he did his other leg at the first session back.
"At the time, I had an ankle injury so he was my training partner so I know how hard he's worked to come back.
"I think he went shoulder reco, double ACL to get back to captaining the side and positioning them really well for a run into the finals.
"It's a really cruel shame that he doesn't get to reap the rewards of that because I know how much he's invested to position that side.
"He's obviously a very strong leader and a big performer for them. It will be hard to fill that spot."
Waratahs coach Michael Chieka was realistic about the concern for Dennis, underlining that he would still play an important role in motivating the side ahead of the playoffs.
"We're not dreamers. It obviously looks like it's serious," said Chieka.
"But at the same time ... we don't want to give up anything until it's absolutely necessary to give up.
"That's why he wanted to come to the press conference. It's why I wanted him to come to the press conference and just show that.
"Obviously Dave's been an integral part of the team's development ... he will continue to be that as well. We're not going to put up the RIP sign."