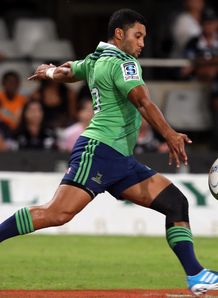 Related links
Teams
Star Highlanders pivot Lima Sopoaga has his sights set on improving his own form as the franchise targets a playoff berth.
Returning to the levels of performance he displayed in the early parts of the Super Rugby season, before an ankle sprain sidelined him. With the Highlanders taking on reigning champions the Chiefs on Friday, he knows hitting the ground running is a must.
''I probably would have liked to have played a bit better, hit the form I had before I got injured,'' Sopoaga told Stuff.co.nz.
''Hopefully I can find that this weekend against the Chiefs. A lot of people have been giving [Aaron] Cruden a hard time because he's been a mixed bag, but it does take time. You just have to look at him, eventually he got there. Hopefully I can build and get back to the form I had before I got injured.''
But the fly-half is also aware that winning a place in the knockout stages is in his team's hands.
''At the end of the day it's all up to us. If we want to push for a place in the playoffs then week to week we have to make sure we prepare well and bring our best performance possible and hopefully get a few wins," added Sopoaga.
''Hopefully some of their energy from the England series rubs off on us that haven't played at test level. Their excitement and skill level should make us play better.''