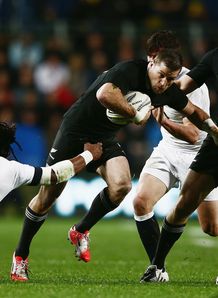 Related links
Teams
Also see
Cory Jane believes England were distracted by their upcoming break in the third Test - something the All Blacks can relate to.
After late slips in their final Test matches over the last two years - including losing to England at Twickenham in 2012 - Jane stated that England's weak first half performance was of a similar nature.
Jane has enjoyed a small rejuvenation in the Test series which New Zealand won 3-0, wrapping up the whitewash by scoring five tries after being pushed close by England in Auckland and Dunedin.
Stating that the England performance in the second half turned the contest into a 'good Test match', Jane used the example of New Zealand's narrow win over Ireland last year as an example.
"I guess they fell into the trap we have in the last couple of years when it comes to the end of our season - you've got one eye on your break," said Jane.
"In the first half maybe they were looking at a few weeks off because it had been a long season. We took advantage of that.
"They came back in the second half and changed that. It turned into a good test match.
"We've done the same thing a couple of years ago and in Ireland last year, making life hard for ourselves because we were looking at the summer. I guess they were looking at that."