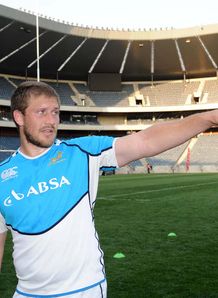 Related links
Teams
New details have emerged about the reason why Frans Steyn walked out on the Boks, with a reported dispute over image rights being the real reason.
Steyn withdrew from South Africa's squad on Tuesday ahead of June games against Wales and Scotland, and according to timeslive.co.za, it was after several Saru officials had arrived at the team hotel in Durban. The website continues by saying the centre departed "in an agitated state".
The shock news has left Springbok head coach Heyneke Meyer having to call in Jan Serfontein to an already depleted midfield, next to JP Pietersen.
Steyn meanwhile has departed, with the website explaining that he'd "been at loggerheads over the handling of image rights" for quite some time.
"His image rights have been owned by a third party since he joined French club Racing Metro in 2009 - a standard practice for high- profile sports stars," they reported.
"When Steyn returned to South Africa in 2012 he was awarded a Springbok contract with a specific understanding that the use of his image rights would take place under licence from the third party. Payments were to be made separately and directly to the party by Saru, but that was not honoured."
Times Live say Steyn, and agent Gerrie Swart, were unavailable to comment on the matter.