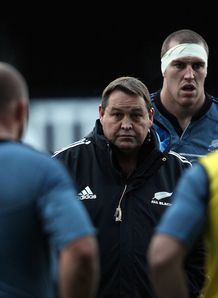 Related links
Teams
New Zealand head coach Steve Hansen stated that the All Blacks' skills were their 'poorest ever' in Auckland against England.
Admitting that every player could have been dropped based on last week's performance, Hansen added that chopping and changing wouldn't have solved the issue of a lack of preparation which hindered New Zealand before the first Test.
"If you turn around and say so and so shouldn't play because he played badly, we wouldn't have anyone on the park - that's how bad the performance was," said Hansen.
"We know some of the reasons we played poorly, and one of them was a lack of preparation time, so there's no point recreating that whole thing again by putting new faces in.
"It's about us working hard on our skill sets, understanding how we want to play and going out and delivering that.
"The group has faith in what we're trying to do; it's just a matter of getting it right on the night."
Happy with how his team have trained this week, Hansen added that the disappointment from last week would spur his side on.
"Our skill sets were very poor - probably the poorest they've ever been," added Hansen.
"This week we've trained well. There's a lot more intensity and purpose about what we've done.
"The guys were very disappointed with the way they played.
"We shouldn't lose sight of the fact we did win the test, but at the same time they're very proud people who want to play a game we can all be proud of, and last week we weren't proud of our performance.
"There is an expectation of where the standards should be, and if they're not there they get told about it.
"There are not too many times All Black teams play poorly and don't respond in some fashion, but don't forget we're playing a very good side and they'll respond as well, and they'll improve."