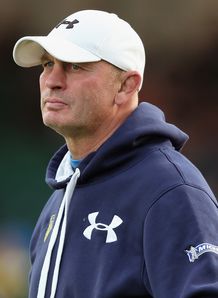 Related links
Teams
New Scotland boss Vern Cotter was happy with his side's showing in his first match in charge against the USA in Houston on Saturday.
The Scots secured a 24-6 victory in scorching temperatures but Cotter admitted there is room for improvement for their next Test against Canada in Toronto on Saturday.
"The primary satisfaction is that we scored tries and we didn't concede a try," said Cotter.
"That's a good start because the States didn't give up.
"They threw everything at us and made ground. They're good ball carriers, they're a good team.
"Obviously I'm happy because we got the win. I thought the players, despite the difficult conditions, played well.
"With certain things, as all coaches will say, we have to do better next week and we're working on those.
"I'm really pleased with the opportunities created and I'm happy that we managed to get over the line. I thought we could've got over and scored another couple. We're looking at that but the opportunities were created and that means that we had initiative.
"Our intention was to get over the line, score points and that's very good."
Cotter expressed his delight with the performances of debutants Blair Cowan, Gordon Reid and Finn Russell, who started against the USA, and Alex Allan, who came on as a second half replacement.
"The guys that came in, I thought they all played well," said Cotter.
"Gordon Reid at the first ruck took the ball and ran through the middle of it. Obviously he wants to be part of the game and that's really important.
"Blair Cowan had an outstanding game at openside, he kept pressure on the whole time. Their play-makers never really had an easy time.
"Finn Russell, you'd think he's played 20 or 30 games already. He was composed, he kicked well out of his hand. He directed play well and defended."
Cotter expects a sterner test against Canada this weekend.
"They [Canada] have probably got a little bit more variety in their game," he added.
"Canada beat the States a couple of times last year.
"We've got injuries, we need to assess those and then we'll be making decisions on whether those players need to be replaced.
"The basis of today's team will play again next week but we may need players coming out of Scotland to help us."
Scotland skipper Greig Laidlaw insists his side cannot afford to rest on their laurels.
"I was just pleased with how the team played," he said of the win over the USA.
"We maybe should've scored another try.
"It's only one win against and we want to go to Canada and build the tour from there."