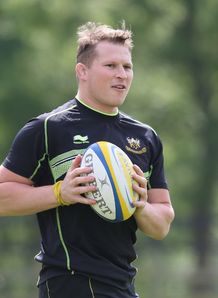 Related links
Teams
Dylan Hartley's participation in this weekend's Aviva Premiership Final and on England's tour of New Zealand is hanging in the balance.
The Northampton skipper missed the semi-final against Leicester and Challenge Cup Final win over Bath last Friday after struggling with a shoulder injury, while England have taken four hookers on tour to New Zealand but Hartley remains first choice.
Whether Hartley plays at Twickenham on Saturday will not necessarily decide if flies out to New Zealand, but Saints are understandably desperate to bring back their skipper for such an important match.
"It's touch and go whether he plays and whether we chance him," said Mallinder.
"If he's fit enough to be in the 23 and take part, the question is do you start him?
"With his improvement there's a very good chance he'll be fit for New Zealand.
"(England coach) Stuart Lancaster has taken four hookers already, but if Dylan is fit to tour then I don't think he'll have any hesitation taking him. And he'll probably play.
"Stuart has said to me that if he plays for us, he's definitely on the plane. Stuart's not said that if he doesn't play for you, he's not on the plane.
"We know he's an outstanding player and one of the best hookers around. We know what he does for the squad as well.
"But we have to balance knowing he could the job for us at the weekend, knowing he'll be better than the other two we have got and also thinking about his health and whether he's at risk by playing.
"Dylan is desperate to play and if you asked him he'd say he's fit."