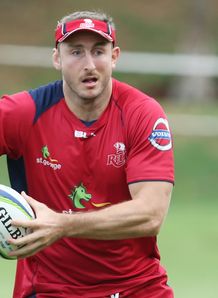 Related links
Teams
A SANZAR judicial hearing has cleared Reds lock Ed O'Donoghue of foul play after he was sent off against the Rebels on Saturday.
The incident occurred during the latter stages of the match which the Rebels won 30-27 at Suncorp Stadium in Brisbane. The referee for the match, Steve Walsh, on advice from the television match official, issued a red card for the incident which occurred in the 79th minute.
No further sanction has been imposed on the player and the red card has been removed from his record.
The SANZAR judicial hearing held via video conference on Monday and was heard by Jannie Lubbe who was assisted by former professional player, Paul Thomson.
In his finding, Advocate Lubbe ruled the following: "After careful consideration of all of the evidence, which included written and verbal submissions from the player, the player's representative Martin Martin QC, Scott Higginbotham and match officials, I have found Mr O'Donoghue not guilty.
My finding is supported by these witness statements, in conjunction with medical evidence supplied by the Rebels which indicated no damage had been inflicted upon Mr Higginbotham and furthermore, the player stated that he made no complaint to the referee.
The act of eye gouging generally triggers a reaction from the victim which was not evident in this case and helped support my finding.
Eye gouging is certainly a very serious and unacceptable offence in the game of rugby and any allegation warrants a thorough investigation.
In this instance, having thoroughly reviewed video evidence from numerous angles and the considering witness testimony, I am satisfied that Mr O'Donoghue has not committed the act in question."