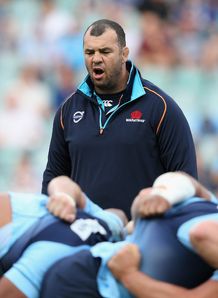 Related links
Teams
Waratahs boss Michael Cheika has played down the prospect of his side finishing in the top two places on the table.
Cheika's side took advantage of losses by the Brumbies and Western Force in South Africa, and are now in fourth place on the overall table and just a point adrift of their Canberra-based rivals, who are at the top of the Australian conference.
The Waratahs also have a game in hand over the Brumbies but despite their favourable position, after Sunday's 41-13 thrashing of the Lions in Sydney, Cheika is taking nothing for granted.
"Close is not good enough," he said.
"You can only talk about it once you've done something.
"I've had the experience before of being close and not delivering at the end, so we're still a long way to go, five games for us to navigate through.
"We've got a very big match on Friday (against Melbourne Rebels), a short turnaround against a very good opponent, they're going to attack us hard at the breakdown, in defence, and we're going to have to be ready for that."
The Waratahs have their best chance in years to reach the play-offs, something which Lions boss Johan Ackermann said after his side's loss.
"If they get the play-offs here (in Sydney), they'll be tough to beat," he said.
But Cheika is remaining cautious.
"What we need to do is think about the next game and not get carried away," he added.
"Because as much as you think hey we could get in, you could think hey we might miss out as well.
"We need to keep a level head."
Despite a superb performance by his team Cheika was angry with the way they allowed the visitors to score their only try of the match from a rolling maul in the first half.
"I don't think anyone would have been happy with the try we gave away in the first half, that was soft, straight up," Cheika said.
"We just watched that, navigated it into the line and steered them in.
"Some teams are good mauling teams, which they are, and yes they'll score against you every now and again but you've got to make it as hard as possible.
"Because of the way we play, we need strong defence, because we're going to make errors and we need to shut the opposition down."