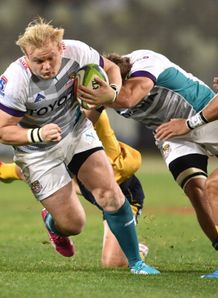 Related links
Teams
Cheetahs captain Adriaan Strauss dedicated Saturday's surprise 27-21 win over the Brumbies to the side's long-suffering fans.
Though the Bloemfontein franchise cannot make the playoffs, they shocked many with victory over one of Super Rugby's high flyers and lifted themselves from the foot of the overall standings.
And the Springboks hooker was at pains to pay tribute to his team's supporters after tasting a sweet triumph.
"We can't make the playoffs any more, but we still play for pride and for our supporters and sponsors," said Strauss.
"This victory was for them. I am proud of the way we came back, especially after losing against the Western Force last week in Bloemfontein."
Though the win may carry little significance in terms of this year's competition, it does at least go some way to exorcising the demons of 2013, where a late Brumbies triumph broke hearts in Bloem as the Cheetahs were beaten in the knockout stages.
"It is a good victory for us. In the last moments we had flashbacks of what happened in our game in 2013, losing against the Brumbies after a mistake in the scrum," added Strauss.
"Luckily we kept our cool and managed to pull this one through. We played for one another, but in the end it was our ability to look after the ball and to keep it tight when it mattered that gave the result.
"Our kicking game was also spot on. That is what you need to close down games like these and luckily we managed to do so."
Brumbies captain Ben Mowen was magnanimous in defeat.
"We were beaten by a very good Cheetahs side. I don't think their place on the log is a fair reflection of their ability on the field," admitted Mowen.
"We did not get the start we were looking for mainly because the Cheetahs came out and disrupted our structures. They took advantage of the early penalties we gave away.
"Once you lose that early momentum, it is difficult to get it back. That was our main problem."