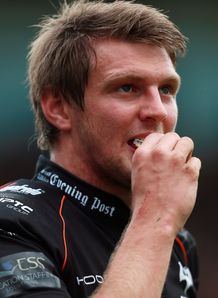 Related links
Teams
Ospreys fly-half Dan Biggar expressed his immense pride after being named Pro12 Players' Player of the Year, despite a tough season.
The Ospreys missed out on qualification for the knockout stages by four points at the death behind Ulster.
Biggar was the league's top points scorer with 219, a feat recognised by his peers.
Remaining optimistic about the Welsh region's future, Biggar underlined how much the award meant coming from his fellow professionals.
"I'm hugely, hugely proud. When you get voted for by your peers, you ask professional sportsmen and they will say the same - it means an awful lot more coming from fellow players," said Biggar.
"I'm hugely honoured just to play against some of the players we play against, let alone be competing for awards with them.
"I think the season has gone reasonably well. I don't think anyone goes through a season 100 percent, without any faults - I have certainly got lots of faults - but where I maybe improved a little bit is if you make some errors or do something bad it is about binning that, moving on and hopefully trying to contribute more to your team.
"It has been hugely frustrating (this season). It has been one of those where we haven't gained any momentum through the season.
"It has been a couple of victories here and a couple of losses there - we haven't put a run together and you look at Glasgow, who are probably the form side, and they have got seven or eight victories on the bounce now.
"They are absolutely flying going into the playoffs and we haven't achieved that. Ultimately we have fallen a bit short, which is hugely disappointing, but I think the future is bright for this club.
"It is hard to watch when you have had a chance to be there. We will certainly be watching two good games with four very good sides in them."