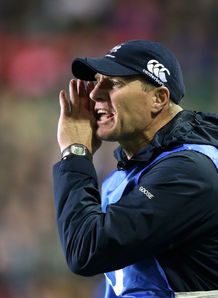 Related links
Teams
Treviso coach Marius Goosen while delighted by securing European qualification for next season was left to reflect on a tough campaign.
Treviso finished in 11th but qualify for the European Cup due to being the highest ranked Italian side in the league this year, above bottom club Zebre.
The margin between the two sides could have been a bit more comfortable had Treviso not lost to the Dragons 20-19 in Newport.
Goosen described the battle to finish above Zebre as incredibly hard, but could now look back and learn from the process.
"Our main objective was to get into the Champions Cup, and we've managed to do that. But naturally we also wanted to win, we were capable of doing so and we came very close," said Goosen.
"In the first half [against the Dragons], with a strong wind behind us, we didn't take advantage of three chances to score. After the break it was a real fight.
"I have to point out that at one point in the second half, all of our starting back row were off, in the last eight minutes we had [Alberto] Sgarbi and [Matteo] Pratichetti there with [Dean] Budd, it's not easy to in an emergency like that.
"However it went, we can now look forward, and hopefully with some hope. I'm telling the truth when I say it's been the hardest four months of my life. But it's good like that, I've learned so much because it's when you are suffering that you learn the most, it will be an important experience for my coaching future.
"I think back to the Six Nations when we didn't have the players, or to all the injuries which tested us in the last few weeks.
"Let's just say I've learned to deal with certain situations and how to work with the squad and always be positive. To avoid making the players feel like they are overcoming difficulties but rather giving them hope."