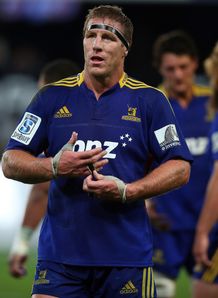 Related links
Teams
Veteran Highlanders second-row Brad Thorn is not about to hang up his boots despite sustaining a biceps tear last month.
The former All Blacks lock, now 39, suffered the damage in early April as he tackled the Bulls' full-back Jurgen Vissar in a Super Rugby clash in Dunedin.
''I was pumped, thinking I'm the first guy here, I'm going to get that fullback. I grabbed him but when I grabbed him he went another way and I heard something. I just knew something had happened. I tried to carry on," Thorn told the New Zealand Herald.
''I hit a maul and it did not feel right. I just knew I needed to get it looked at. There was still good strength in my arm. But the specialist looked at it and said it is gone.''
Perhaps owing to Thorn's incredible longevity in the professional era, this is his first major injury in a twenty-year career. It has curtailed his involvement with the Highlanders' conclusion to their Super Rugby campaign and will rule him out for up to five months.
But the old warhorse, known for his all-action style of play and phenomenal fitness levels, says he has one more year at the top left in him - wherever that may be.
''I will say I will play again. This year is a little bit frustrating. I only got to play four games when I am used to playing 25 to 30 games. I definitely want to play again. I've got to look where," added Thorn.
''A guy from the Bulls did the same injury the week before and he is 27. There are guys every week who get injuries and their season is over. It is just because I happen to have the number 39 beside my name. Does that mean my body is telling me something? I don't know.
''It is a contact sport. I go hard and for once, I got an injury. Is it because I'm old now? Maybe, I don't know.
''Wherever I play next year, that is it. That is going to be my final season. I'm just having a break now; I'm four months away and letting things heal.
''I will get to a place where I am more comfortable, then I will start to train.''