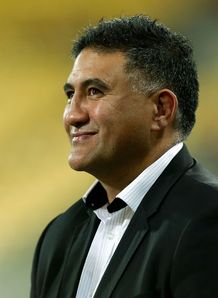 Related links
Teams
The New Zealand Rugby Union have begun negotiations to keep Jamie Joseph with the Highlanders for the next two seasons.
Joseph's contract is set to expire at the end of the campaign but based on his team's current good form, Highlanders boss Roger Clark has confirmed that the franchise would like to keep him at the helm.
The Highlanders have won five of their nine matches so far this season, losing by a point to Stormers in Cape Town last weekend, but despite being fourth in the New Zealand Conference are only four points off the top spot.
Little was expected from Joseph's squad after a number of high-profile exits at the end of last year, but inspired by the likes of Malakai Fekitoa and Liam Sopoaga the side have gone from strength to strength.
"We've asked [the NZRU] to try and sign him for the next two years," Clark told Fairfax News.
"Obviously we had a blip in the radar last year for all sorts of different reasons but... the results Jamie has got over the first two years of his contract, and this year, are exceptional really. We'd like to continue that and see it evolve.
"Obviously, the reason we selected Jamie in 2010 hasn't changed except he's got more experience and is a better coach for it."