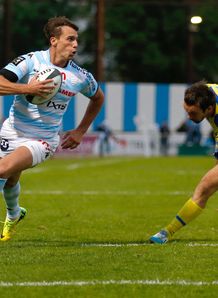 Racing Métro took a giant step towards a home Top 14 play-off with an impressive 22-6 win over Clermont in Paris on Saturday.
Bayonne snatched a draw in the last minute away to Grenoble to move level with Oyonnax (who drew with Toulouse) and Perpignan in a three-way relegation tussle with one round to go.
Perpignan's loss to Toulon in Barcelona means they are now favourites to joing Biarritz - who edged Brive - in the second tier ProD2 next season.
Results:
Castres 22-15 Montpellier
Oyonnax 19-19 Toulouse
Perpignan 46-31 Toulon
Biarritz 19-13 Brive
Grenoble 21-21 Bayonne
Racing Métro 22-6 Clermont
Stade Français 37-23 Bordeaux-Bègles
---
Racing Métro 22-6 ASM Clermont
Stade Yves Du Manoir - Colombes (Paris)
Racing are clearly the in-form team heading into the play-offs as they extend their winning streak to five games to move to fourth place in the standings, level with Clermont.
The scoreline probably doesn't reflect a very closely-fought contest, which saw the les Franciliens, who led 9-6 at the break, seal the win with a 76th-minute try from Juan Imhoff.
Clermont must now hope for a bonus-point win at home to Perpignan on the final day and and for Racing to sneak a win in Montpellier to qualify directly for the semi-finals.
The scorers:
For Racing Métro:
Tries: Imhoff
Con: Machenaud
Pens: Machenaud 3, Sexton
Drop: Hernandez
For Clermont
Pens: Delany 2
Yellow cards: Malzieu, Hines
Racing: 15 Juan Martin Hernandez, 14 Juan Imhoff, 13 Henry Chavancy, 12 Jamie Roberts, 11 Marc Andreu, 10 Jonathan Sexton, 9 Maxime Machenaud, 8 Jacques Cronje, 7 Bernard Le Roux, 6 Antoine Battut, 5 Francois van der Merwe, 4 Juandre Kruger, 3 Luc Ducalcon, 2 Virgile Lacombe, 1 Julien Brugnaut
Replacements: 16 Jeremie Maurouard, 17 Eddy Ben Arous, 18 Fabrice Metz, 19 Dan Lydiate, 20 Mike Phillips, 21 Wenceslas Lauret, 22 Fabrice Estebanez, 23 Brian Mujati
Clermont:15 Jean-Marcellin Buttin, 14 Sitiveni Sivivatu, 13 Aurelien Rougerie, 12 Benson Stanley, 11 Julien Malzieu, 10 Mike Delany, 9 Thierry Lacrampe, 8 Fritz Lee, 7 Alexandre Lapandry 6 Damien Chouly, 5 Nathan Hines, 4 Julien Pierre, 3 Daniel Kotze, 2 Benjamin Kayser, 1 Thomas Domingo
Replacements: 16 Benoit Cabello, 17 Vincent Debaty, 18 Loic Jacquet, 19 Julien Bonnaire, 20 Morgan Parra,, 21 Brock James, 22 Regan King, 23 Clement Ric
Referee: Romain Poite
---
FC Grenoble 21-21 Aviron Bayonnais
Stade Lesdiguières, Grenoble
Martin Bustos Moyano kicked a last-minute penalty to snatch the draw for Bayonne, a result that has massive ramifications.
The stalemate means Grenoble, who travel to Toulouse on the last day, can still be relegated while Bayonne, who host Castres in a fortnight, climb out of the drop zone.
Grenoble, who led 13-7 at the interval, looked to have secured victory with Julien Caminati's 67th-minute try but Bayonne - the masters of avoiding relegation - managed to pressure their hosts into two late penalties that could be synonymous with survival.
The Basque visitors never held the lead but tries from Marvin O'Connor either side of half time kept them in touch.
Bayonne are now the masters of their own destiny as they host Castres on the final day.
The scorers:
For Grenoble:
Tries: Caminati, Alexandre
Cons: Hart
Pens: Hart 3
Yellow cards: Roodt
For Bayonne:
Tries: O'Connor 2
Cons: Bustos Moyano
Pens: Bustos Moyano 3
Yellow cards: Spedding, Haare
Grenoble: 15 Benjamin Thiery, 14 Ratu Ratini, 13 Rida Jaouher, 12 Nigel Hunt, 11 Julien Caminati, 10 Fabien Gengenbacher, 9 James Hart, 8 Fabien Alexandre, 7 Peter Kimlin, 6 Jonathan Best, 5 Andrew Farley, 4 Hendrik Roodt, 3 Richard Choirat, 2 Laurent Bouchet, 1 Albertus Buckle
Replacements: 16 Kenan Mutapcic, 17 Anthony Hegarty, 18 Henry Vanderglas, 19 Ben Hand, 20 Geoffroy Messina, 21 Jordan Michallet, 22 Mathieu Loree, 23 Dayna Edwards
Bayonne: 15 Scott Spedding, 14 Martin Bustos Moyano, 13 Joe Rokocoko, 12 Matthieu Ugalde, 11 Marvin O'Connor, 10 Santiago Fernandez, 9 Guillaume Rouet, 8 Dwayne Haare, 7 Charles Ollivon, 6 Mark Chisholm, 5 Lisiate Fa'aoso, 4 Dewald Senekal, 3 Gert Muller, 2 David Roumieu, 1 JC van Rensburg,
Replacements: 16 Anthony Etrillard, 17 Aretz Iguiniz, 18 Opeti Fonua, 19 Jean Monribot, 20 Jean Jo Marmouyet, 21 Mathieu Belie, 22 Manu Ahotaeiloa, 23 Vitolio Manukula
Referee:Cyril Lafon
---
Biarritz Olympique 19-13 CA Brive-Corrèze
Parc des Sports d'Aguilera, Biarritz
Brive dominated the second half but Yann Lesgourgues's 78th minute try for Biarritz denied the visitors their first win on the road this season and gave the Basques something to celebrate in their last game at the Aguilera before dropping out of the Top 14.
Dimitri Yachvili marked his final home game for Biarritz by kicking four penalties before being given a standing ovation as he left the field in the final minutes.
The scorers:
For Biarritz :
Tries:Lesgourgues
Cons: Traille
Pens: Yachvili 4
Yellow cards: Kodela
For Brive:
Tries: Galala
Cons: Germain
Pens: Germain 2
Yellow cards: Briatte, Ledevedec
Biarritz: 15 Damien Traille, 14 Aled Brew, 13 Charles Gimenez, 12 Seremaia Burotu, 11 Teddy Thomas, 10 Julien Peyrelongue, 9 Dimitri Yachvili, 8 Imanol Harinordoquy, 7 Raphael Lakafia, 6 Benoit Guyot, 5 Thibault Dubarry, 4 Erik Lund, 3 Francisco Gomez Kodela, 2 Arnaud Heguy, 1 Thomas Synaeghel,
Replacements: 16 Romain Ruffenach, 17 Fabien Barcella, 18 Mathias Marie, 19 Josh Furno, 20 Yann Lesgourgues, 21 Geoffrey Sella, 22 Paul Couet-Lannes, 23 Ben Broster
Brive: 15 Gaetan Germain, 14 Sevenaia Galala, 13 Thomas Sanchou, 12 Andrew Mailei, 11 Baptiste Delage, 10 Thomas Laranjeira, 9 Damien Neveu, 8 Sisa Koyamaibole, 7 Hugues Briatte, 6 Petrus Hauman, 5 Arnaud Mela, 4 Dominiko Waqaniburotu, 3 Johan Coetzee, 2 Louis Acosta, 1 Karlen Asieshvili,
Replacements: 16 Guillaume Ribes, 17 Damien Lavergne, 18 Julien Ledevedec, 19 Said Hireche, 20 Jean-Baptiste Pejoine, 21 Romain Sola, 22 Arnaud Mignardi, 23 Tamato Leupolu
Referee: Cédric Marchat
---
Stade Français 37-23 Union Bordeaux-Bègles
Stade Jean Bouin, Paris
Stade Français were seldom troubled as they cruised to a 37-23 victory over Bordeaux-Bègles to round off the weekend's Top 14 action, overtaking their opponents in seventh place on the overall standings with one Round to play.
Jerome Fillol and Pierre Bernard traded penalties early on before Waisea Nayacalevu crossed for the first of two tries for the hosts, the scrum-half adding the extras.
Bernard hit back with a three-pointer shortly after, but Nayacalevu dotted down again barely 15 minutes into the match to stretch Stade's lead to 15-6.
Bordeaux-Bègles needed a response, and they got it minutes later, with hooker Clement Maynadier powering his way over, and Bernard adding the extras to cut the gap to two points.
It was to prove a temporary reprieve for the visitors, as Stade blitzed Bordeaux-Bègles with two converted tries in a ten minute spell, Antoine Burban and Djibril Camara both scoring, and Fillol on target twice from the tee.
That left the visitors trailing 29-13 at half-time, and Wallaby winger Digby Ioane added gloss to the scoreline just after the break. Fillol was unable to convert, but added a further penalty on the hour mark; Bordeaux-Bègles bagging a consolation try through Felix Le Bourhis.
The scorers:
For Stade:
Tries: Nayacalevu 2, Burban, Camara, Ioane
Cons: Fillol 3
Pens: Fillol 2
For Bordeuax-Bègles:
Tries: Maynadier, Le Bourhis
Cons: Bernard 2
Pens: Bernard 2
Stade Français:15 Djibril Camara, 14 Julien Arias, 13 Waisea Nayacalevu, 12 Jonathan Danty, 11 Digby Ioane, 10 Jules Plisson, 9 Jerome Fillol, 8 Sergio Parisse, 7 Olivier Missoup, 6 Antoine Burban, 5 Pascal Papé, 4 Gerhard Mostert, 3 David Attoub, 2 Laurent Sempere, 1 Heinke Van der Merwe
Replacements: 16 Aled De Malmanche, 17 Rabah Slimani, 18 Anton van Zyl, 19 Pierre Rabadan, 20 Clement Daguin, 21 Morne Steyn, 22 Meyer Bosman, 23 Zurabi Zhvania
Bordeaux-Bègles: 15 Darly Domvo, 14 Metuisela Talebula, 13 Julien Rey, 12 Thibault Lacroix 11 Felix Le Bourhis, 10 Pierre Bernard, 9 Heini Adams, 8 Taiasina Tuifua, 7 Matt Graham, 6 Louis-Benoit Madaule, 5 Adam Jaulhac, 4 Aliki Fakate, 3 Silviu Florea, 2 Clement Maynadier, 1 Benat Auzqui,
Replacements: 16 Ole Avei, 17 Zara Navrozashvili, 18 Jan Andre Marais, 19 Cameron Treloar, 20 Hugh Chalmers, 21 Manu Saubusse, 22 Romain Lonca, 23 Patrick-Albert Toetu
Referee: Pascal Gaüzère