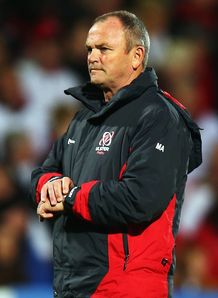 Related links
Teams
Ulster boss Mark Anscombe insists the his side's Heineken Cup exit doesn't mean there is nothing left to play for this season.
A Pro12 semi-final is on the horizon for Anscombe's team but the New Zealanders admits it is difficult to know which teams to back in other matches given the number of points separating the top sides.
Ulster travel to face Glasgow on Friday and the target of playing at Ravenhill in the semi-final is still achievable.
But Anscombe admits the fans and players have to move on from the Heineken Cup exit to Saracens two weeks ago.
"You sort of watch these games and you wonder who do you want to win," said Anscombe.
"Am I happy that Ospreys beat Leinster? I don't know. It allows us to catch Leinster but it keeps Ospreys in the picture.
"But at the end of the day, we'd be lying if we didn't say it, we'd like a home semi-final. So to do that, we'd at least have to win two of our last three and if we beat Leinster we could go first. It is achievable and that's what we've got to do."
"A lot of people said 'what's to go for now? Well, the season started in September and this was our goal, to be successful in this competition, because that's what started the year off.
"We can't feel sorry for ourselves. Disappointed? Yes. Hurt? Yes.
"But we've got to get back on it and think as a group we're not going to be together again in four or five weeks' time. So we believe we're good enough, let's show we are."