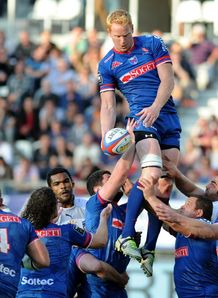 Related links
Also see
They may only sit three points clear of the second relegation spot in the Top 14, but Grenoble are refusing to hit the panic button.
The team from the foot of the French Alps find themselves tucked into a group that includes Perpignan, Bayonne and Oyonnax - with all four fighting for survival.
As the battle at the top of the league to reach the playoffs is fought by eight teams separated by 11 points, it would be wrong to ignore the drama at the bottom.
Back in Round 17, Grenoble were fourth in the league. Now they lie 10th and have a battle on their hands, with just two games left in the regular season to go.
"Last year the squad was ready for this kind of situation, but by the end we were relaxed [when Grenoble finished 11th but 23 points clear]," coach Fabrice Landreau told AFP.
"This time everyone is on alert. But the weight of the season and difficulty level of the league are the reasons for our low energy in recent matches. In the last couple of matches, the foundations of the team haven't been as powerful."
"The loss to Biarritz damaged our state of mind," added club president Marc Chérèque.
Grenoble however should take heart from their loss to Montpellier last weekend, when they picked up a crucial losing bonus point and scored three tries against the league leaders before losing 30-36.
"We have to feed on what we produced in the final 40 minutes against Montpellier. That broke the constraints that we've been playing in over the last few weeks," added Landreau.
"I don't like talking about hypothesise. I trust my group. We will try to recover and focus on the next game. This will be a normal week for us and the most important thing is to control our destiny."
Grenoble have already signed up Super Rugby stars Gio Aplon and Charl McLeod for next season, along with Jonathan Wisniewski from Racing Métro.