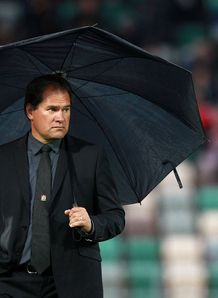 Related links
Teams
Chiefs boss Dave Rennie was left exasperated by his side's recent slow starts to Super Rugby matches on South African soil.
Trailing badly to the Bulls and Cheetahs in consecutive weeks, the Chiefs pulled off two outrageous comebacks to snatch both games from the fire, ending in 34-34 and 43-43 draws respectively.
Though thrilling for the neutral, Rennie has been unimpressed by his team's inability to get going early on, shipping points aplenty. In Bloemfontein this weekend, they fell to a 34-10 half-time deficit in a game the coach labelled one "we should have won and won easily".
"It's fair to say we're pretty grumpy about how we played the first half," Rennie told Stuff.co.nz.
"We lost the 50/50 battles, lost a lot of ball on the deck, we tackled poorly, didn't get a lot of go-forward and never really were able to build any pressure.
"The media in Bloemfontein were in raptures about our comeback but we were probably the total opposite and more concerned with how poorly we started and why and we'll certainly ask those questions in the next couple of days.
"The boys were challenged (at half-time) in around what they said they were going to deliver and what they were delivering in a number of areas.
"To their credit they did respond but it shouldn't take a half-time fire-up to get us going so that needs to be better.
"You can't afford to give teams that sort of lead and then always think you can pull something out of the fire right at the end.
"We've been lucky in the last couple of weeks and while there is a hell of a lot of character involved in this group we've seriously got to look at the way we're starting.
"We just didn't do well enough first half and if we're going to have aspirations of winning the championship we've got to be a hell of a lot better."