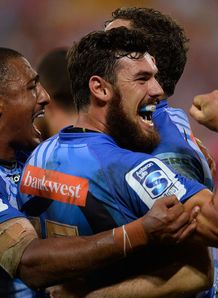 Related links
Teams
Western Force full-back Jayden Hayward is the latest New Zealander set to switch allegiances in a bid to play for Australia.
The former Highlanders and Hurricanes stalwart has been one of the Western Force's best players since joining them last year. Hayward was the Perth-based franchise's hero when he scored a spectacular matchwinning try in Saturday's 32-29 victory over the Reds in Brisbane.
He is currently in the second year of a three-year qualifying period as the Force's foreign development player, and wants to stay in Perth and play for the Wallabies after next year's World Cup.
"I'd love to stay here," Hayward told AAP.
"Everybody wants to play international rugby and if the opportunity arises then I wouldn't say no."
Hayward isn't the only New Zealand full-back making a name for himself in Australia. Melbourne Rebels number 15 Jason Woodward has also caught the attention of Wallabies coach Ewen McKenzie with some impressive performances.
Woodward's fellow Rebels, flanker Scott Fuglistaller and prop Toby Smith, are also in the reckoning while Reds centre Mike Harris has already represented the Wallabies in 10 Tests thanks to his Australian-born grandmother.
Hayward and Woodward would not start at full-back for the Wallabies, however, as the Waratahs' Israel Folau is the first-choice for the position but the selection landscape will be different after the World Cup when several Wallabies are set to head overseas.