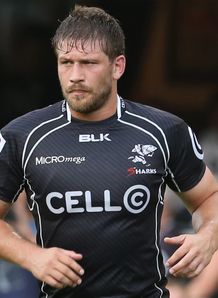 Related links
Teams
Sharks centre Francois Steyn has received an off field yellow card for a foul committed in Saturday's clash with the Waratahs in Durban.
SANZAR duty judicial officer Jannie Lubbe SC has accepted a guilty plea from Steyn for contravening Law 10.4 (e) Dangerous tackling, after he was cited during a Super Rugby match at the weekend.
The incident occurred in the 16th minute of the match which the Sharks won 32-10.
In his finding, Mr Lubbe ruled the following: "Video evidence of the incident showed that Steyn executed initially a legitimate tackle on his immediate opponent by grabbing the bottom of the jumper of the Waratahs player, Kurtley Beale with both hands. This was done at speed and in a dynamic situation.
"In the process of the tackle, Beale passed the ball to a team mate but after the pass, Steyn continued with the tackle by going to ground and swinging his opponent with him.
"This resulted in the tackled player landing on his back and his head hitting the ground with some force. The referee called for a review of the incident and having reviewed the incident, awarded a penalty against the Sharks.
"The citing commissioner correctly pointed out in his report that as a result of the late tackle, the Waratahs player was placed at risk of injury to his spinal and head area.
"Mr Gerrie Swart submitted on behalf of the player that the initial tackle was legitimate and that Steyn had no intent of causing injury to his opponent as he was not in a position to observe that the tackled player had passed the ball.
"In assessing the circumstances around the incident, an off field yellow card was considered the appropriate sanction as a suspension was not warranted for the offence."